Posted on 2009-07-08 in Happenings, Pictures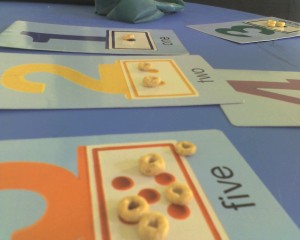 In order to get Chase interested in some counting exercises I went to get some Cheerios for the 1-5 flash cards. Gotta get the older kids involved too so I figured I'd give Dex something to think about while I was off to the kitchen.
"Hey Dex, i want to get one cheerio for each dot on these cards 1 through 5. How many do I have to get?"
I was ready to walk away and let him think about it but before I had taken a step….
"Fifteen"
He had barely looked up from the YMCA camp brochure. It shook me a bit. I had to double check because it was too easy.
"How did you get that?"
"Well, I started with 5, then 4+1 is 5 and that leaves 2+3… 3 times 5 is fifteen."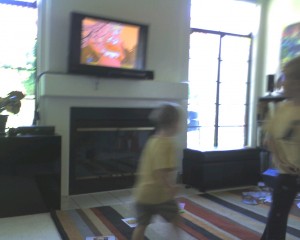 Posted on 2009-06-12 in Happenings, Movies, Pictures
Mariel had a really long day. Today might not have been the best day to surprise her with the new car.
She handled it well. She just barely didn't pee. She didn't go into labor.
Success…
Here's a link to the album
Posted on 2008-12-31 in California, Picasa Albums, Pictures
This is the table that the parent's bought us for Christmas. It fits just about perfect.
Thanks guys.
Oh yeah – and there's also some pictures of our New Years Eve Swim!  It's the first time any of us have ever been in a pool on New Years Eve.
Posted on 2008-01-03 in Pictures